Food Fraud and Transparency
Can we trust our food?
According to a 

survey

 from almost 20,000 European consumers about their trust in the agrifood industry, only 40% of people have confidence that the food products they buy are generally authentic. This represents a huge opportunity for the agrifood industry to innovate and work alongside consumers to build trust and increase transparency – and reduce fraud as a result.
Reported cases of suspected food fraud in EU Member States increased by 85% between 2016 and 2019 and the COVID-19 pandemic is predicted to have increased the presence of substandard goods even further.
What is food fraud?
Fraudulent activities are characterised by their intentional nature and end goal of making economic gain. They are in violation of rules, requirements and agrifood chain legislations, and are at the expense of the immediate or final customer. Whether it be another business in the supply chain or a consumer. In most cases, food fraud constitutes risks to human, animal or plant health, animal welfare and the environment, and ignores moral and ethical principles.
Another risk, as Professor Louise Manning of the Royal Agricultural University explains, is that businesses which comply with the law are forced to compete with businesses who are cutting corners, meaning that they are placed at unfair competitive disadvantage against unscrupulous rivals.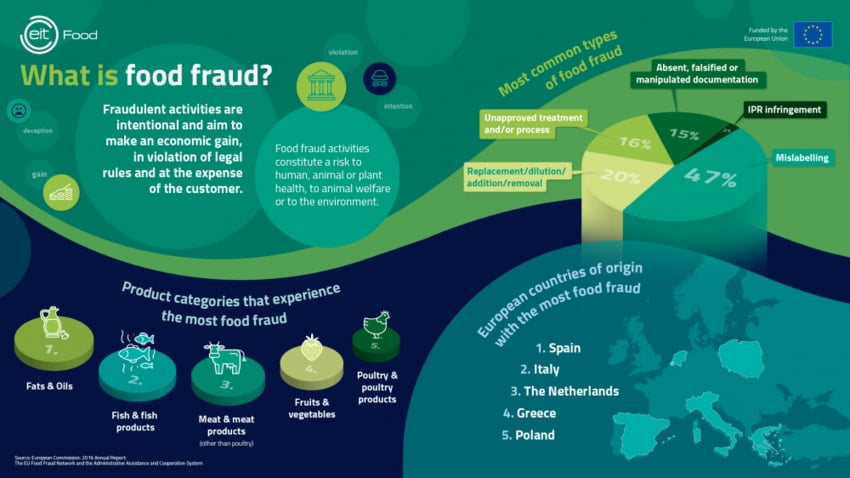 As we draw closer to the United Nations'

Sustainable

Development Goals of peace and prosperity for people and the planet by 2030,The European agrifood industry is transforming to become safer, healthier, more sustainable and more transparent.
How can you join the fight against food fraud?
Raising awareness about how to identify food fraud, and subsequently expose criminal groups, is one of the method to reduce risks and increase confidence.
Education initiatives such as EIT Food's online Future Learn courses, which give consumers and stakeholders the chance to learn more about trust, food safety and the complexity of supply chains in a flexible and personal way, are also critical to raising awareness. The free courses include:
Would you like to read the full blog? then click here to read on the source page.
How about the products of

Happy Local

?
We have a very high standard for our products as well they are simply traceable since all of our product are supplied from local producers. Our fresh vegetables are all grown in Luxembourg and delivered fresh from farm to you. We share information of the supplier on our website and you can always contact us to ask as well.